Scroll Down for Harry's Old Place Dinner Menu
Known throughout Polk County as a fine seafood restaurant, Harry's Old Place also offers a good assortment of steaks, in addition to chicken and pasta. Filet Mignon, delmonico, ribeye and new york sirloins are always available. On Tuesdays Harry's Old Place has Twin Lobster Tails. Wednesday features Prime Rib, and Thursday is Surf and Turf.
Harry's Old Place Dinner Menu
Where the fish, is always de-lish!
`·.¸¸.·´`·.¸.·´`·...><((((º>`·.¸¸.·´`·.¸.·´`·...><((((º>
Specializing in Fresh Seafood
A Winter Haven Tradition Since 1992
No Reservations
Take-Out Available
Visa, MasterCard and Discover Accepted
Harry's Soups

Seafood Chowder

Creamy white chowder with Fish, Shrimp, Scallops, Clam juice, and Veggies. Offered in a cup for $4.75 or bowl for $6.25.
$4.75
$6.25

French Onion Soup:

Our award winning soup topped with bubbling Swiss and Mozzarella cheese
$5.99
---
Harry's Starters

Gator Bites:

Fried Gator tail served with our house made Swamp Sauce
$11.99
Onion Loaf: A Delicious Brick of Deep Fried Onions served with Loaf Sauce
$8.99
Smoked Fish Dip: Smoked Wahoo and Mahi Dip served with club crackers
$10.99
Gator Sausage and Pimento Cheese: Served with club crackers and bbq
$12.99
Cheese Curds: Battered White Cheddar served with Cajun Garlic Butter
$9.99
Sweet N Spicy Shrimp: Fried Shrimp in our Sweet and Spicy Sauce
$10.99
Stuffed Shrimp: Stuffed with Seafood Imperial and a side Swamp Sauce
$11.99
Mussels: Steamed and served covered in our house Garlic White Sauce
$11.99
Peel and Eat Shrimp: Boiled and Chilled by the half pound for $11.99 or pound $20.99
$11.99
$20.99
Escargot in Mushroom Caps: Served with our Garlic White Sauce
$10.99
Shrimp Cocktail: Shelled, chilled, and served with cocktail sauce
$10.99
---
Fresh Fish Blackboards


• Served with Hush Puppies and your choice of two sides
Harry's specialty is fresh fish. Our Blackboards change daily and features one of the largest selections of Fresh Fish that you can find. We recommend them to be prepared our favorite way which is lightly seasoned and Broiled in lemon butter so you can taste the true flavor of the fish. We can also prepare your fish any of the following ways:
• Blackened• Char Broiled • Fried • Garlic Butter • Mustard Dill • Garlic Bread Crumbs • Garlic Caper Butter • Jerk Seasoning
| | |
| --- | --- |
| Add a house made topping: | |
| • Heavenly: Creamy Baked Parmesan sauce topped with Chives | $2.99 |
| • Berry Cool: Raspberry Chipotle with Bleu Cheese crumbles and Walnuts | $1.99 |
| • Crab and Hollandaise: Blue Crab meat with Hollandaise | $8.99 |
| • Voodoo Sauce: Spicy White Wine cream sauce with Shallots | $1.99 |
| | |
---
Seafood Entrees:


Served with your choice of two sides and Hush Puppies
Harry in the Bag: Grouper in a bag Baked with a Unique Pecan topping
Market
Grouper Special: Broiled Grouper topped with a mix of Shrimp, Scallops and Crab meat tossed in Garlic Butter
Market
Corvina Monterey: Corvina topped with Artichoke Hearts, Sun dried Tomato, Mushrooms, Garlic, White Wine, and Parmesan Cheese
Market
Scallops: Sea Scallops Broiled with Lemon Butter, Garlic Butter or Deep Fried
$26.99
$33.99
Shrimp: Broiled with Lemon Butter, Garlic Butter or Deep Fried
$18.99
$23.99
Broiled Combo: Fish, Shrimp, Scallops, Seafood Imperial and Snow Crab legs
$31.99
Seafood Imperial: Baked Crab, Scallops and Shrimp casserole with minced Veggies
$19.99
Fried Oysters: Whole, Shelled Oysters lightly Battered and Deep Fried
$24.99
Grouper Fingers: Thin strips of Grouper Battered and Deep Fried
$21.99
Fried Catfish: Battered Filets in our Seasoned Cornmeal Breading
$15.99
Fried Combo Platter: Fish, Scallops, Oysters, Shrimp and Clams
$27.99
Fish and Chips: Cod filets Deep Fried served with Fries and Coleslaw (no subs)
$16.99
Pescatore with Linguini: Scallops, Shrimp, Clams, Fish and Mussels over Linguini with Red or White Garlic Sauce (served with tossed salad and garlic bread, no sub)
$23.99
---
Steak and Chicken Entrees:


Served with Garlic Bread and your choice of two sides
Filet Mignon: 8oz Filet topped with Sautéed Mushrooms
$25.99
Surf and Turf: 8oz Filet and Broiled Lobster tail served with butter
$35.99
Garlic Steak: 12 ounce Ribeye topped with Garlic Butter
$27.99
New York Strip: 12 ounce Strip
$23.99
Steak and Shrimp combo: 8oz thin cut Strip with Broiled or Fried shrimp
$23.99
Chicken Pinot Grigio: Two Chicken breasts topped with a White Wine, Mushroom and Shallot sauce
$16.99

---

Sides: $2.50

• New Potatoes • Rice Pilaf • Cheesy Grits
• Fresh Veggies • Fries • Tossed Salad • Coleslaw
---
Sandwich and Such Platters:


Served with Fries, Coleslaw and a Pickle spear
Grouper: Blackened Fried or Grilled, with Lettuce, Tomato on a Brioche Bun
Market
Fish Tacos: 3 Fish Tacos, Fried, Broiled or Blackened topped with Mango Salsa, Slaw, Cheddar, and Cilantro (no pickle spear with tacos)
$16.99
Shrimp Tacos: 3 Shrimp Tacos Fried, Broiled or Blackened, Sweet and Spicy sauce, Bleu Cheese crumbles, Mango Salsa, Slaw and Cilantro
$16.99
Cheese Burger: 8oz burger, American, Lettuce, Tomato on a Brioche Bun
$12.99
Fish Reuben: Broiled Mahi, Swiss, Swamp sauce and Slaw on Marble Rye
$14.99
Chicken Mushroom and Swiss: Lettuce and Tomato on a Brioche Bun
$12.99
---
Children's Menu


All kid's items come with a beverage, a scoop of ice cream and choice of one side: Fries, Vegetable, Salad, Applesauce, Mandarin Oranges or Coleslaw
Burger: Cheese available
$5.50
Grilled Cheese: Whole Wheat bread and American cheese
$4.95
Peanut Butter and Jelly: on Whole Wheat bread
$4.95
Shrimp: Broiled or Fried
$5.95
Linguini and Meatballs: Served with house made Marinara
$5.95
Chicken Fingers: served with Honey Mustard, BBQ, or Ranch
$5.95
---
Desserts:

Key Lime Pie: our special cream based key lime pie served slightly frozen
$5.50
Peanut Butter Pie: Creamy Peanut Butter pie with an Oreo crust and Chocolate sauce
$5.50
Brownie Sundae: Warm Brownie topped with Ice Cream, Chocolate sauce, Whipped cream and a Cherry
$5.50
Coconut Cream Pie: Cream Coconut Cream Pie topped with Whipped Cream
$5.50
Specialty Cheesecake: Ask your server for Todays feature
Market
---
| | |
| --- | --- |
| Salad Dressings: | |
| • Ranch • Bleu Cheese • Raspberry Vinaigrette • 1000 Island • Balsamic Vinaigrette • French • | |
---
BEER AND WINE
Ask to see our fantastic wine list.
Draft and Bottled Beer Available:
National, Microbrew, and Imports

GIFT CERTIFICATES
Ask about our Harry's Gift Certificates.
They're perfect for all occasions!

*Consuming raw or undercooked meats, poultry, seafood, shellfish, or eggs may increase your risk of foodborne illness, especially if you have certain medical conditions.

Please Note: At Harry's Old Place, the food is always freshly prepared to order and occasionally may take a little longer, but you will taste the difference.

Harry's Old Place

3751 Cypress Gardens Road,

Winter Haven, Florida 33884,

(863) 324 - 0301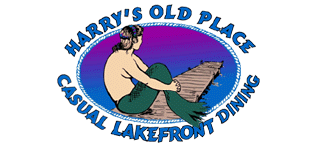 Where the fish, is always de-lish!
`·.¸.·´`·...><((((º>`·.¸¸.·´`·.¸.·´`·...><((((º>