Homepage
|
Food-Drink-Liquor
|
Our Story
|
Hours-Location
|
Restaurant-Reviews
Seafood Restaurant - Casual Lakefront Dining - Winter Haven's Best Seafood & Steaks
Harry's Old Place

3751 Cypress Gardens Road,

Winter Haven, Florida 33884,

(863) 324 - 0301
• Tuesday-Thursday 11:30am-8:30pm,
• Friday: 11:30am-9pm, • Saturday: 4-9pm,
• Sunday: 11:30am-8pm, • (Monday: Closed)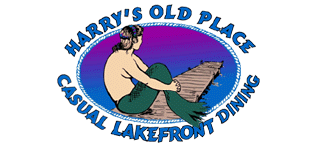 Where the fish, is always de-lish!
`·.¸.·´`·...><((((º>`·.¸¸.·´`·.¸.·´`·...><((((º>
Try Harry's Old Place' New Full Liquor Bar, Wine Bar, or their cold draft beer and extensive assortment of domestic, imported and craft bottled beers.
[Watch in Full Screen Mode]

Sign up for Harry's 'Special E-mail Announcements' and be the first to know what's cooking.


Our unique wines by the glass are also available to take home by the bottle.


We have party size Crab Dip for your home event, ask your server.
Where the fish, is always de-lish!
Harry's Old Place is at its heart, a neighborhood restaurant. Folks drop by for a quick bite or bring in friends while 'doing the town'. Harry's menu is designed to make it easy for you to enjoy yourself. Harry says, "We just want you to have a good time".
Located on the shores of Lake Ned in beautiful Winter Haven, Florida, Harry's Old Place offers a large assortment of fresh fish from both the Atlantic and the Gulf. Typical choices might include tilapia, monkfish, flounder, cod, haddock, salmon, Chilean sea bass, and more. It is not unusual to have 12 or more fish listings on the daily catch boards, which are positioned throughout the restaurant.
One of the choices not listed is instead on the menu. Grouper can be had fried as in fingers or a sandwich, broiled with any one of the many free toppings like cilantro and green peppercorn or jerk seasoning among others. Or you can have it baked as the house specialty, Harry in a Bag. Topped with crushed pecans, ritz crackers and assorted seasonings, this entrée is probably the #1 seller on the menu.
Don't forget what isn't in the bag though. Known throughout Polk County as a fine seafood restaurant, Harry's Old Place also offers a good assortment of steaks, in addition to chicken and pasta. Filet Mignon, delmonico, ribeye and new york sirloins are always available. On Tuesdays we have Twin Lobster Tails. Wednesday features Prime Rib, and Thursday is Surf. Ken the chef always has a different special on Friday and Saturday, frequently using seasonal items.
Best Seafood and Steaks in Winter Haven, FL
'Besides fresh fish and succulent steaks, Harry's has quite a few appetizers to get you started. Baked or steamed oysters, fresh steamed clams or mussels, Florida gator bites or the house specialty, Onion Loaf. This tasty loaf of sweet onions, coated and breitling replica fried has been on the menu since they first opened their doors an 1980 as Harriston's. A move to a larger location resulted in the name change when the partners returned to the rustic building in Garden Grove in 1992.'
Hospitality has always been a key ingredient in the making of Harry's Old Place. When you come to dine with us, we try to make you feel as if you are dining at our home. Because this is our home. And we want everyone to share what we have to offer.